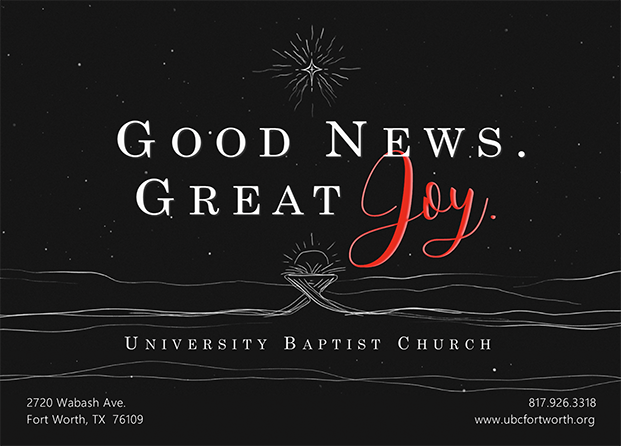 Advent Worship Services
Sunday Mornings
10:30am | Sanctuary
Breakfast with Santa
Saturday, December 9
9:30am | Harris Hall
Come for pancakes, crafts, pictures with Santa, and a reminder about the true meaning of Christmas. This is a great event for the whole family and a wonderful outreach event, sponsored by the UBC Deacons.
Sing We Now of Christmas
Sunday, December 10
6:00pm | Sanctuary
A worship celebration presented by the UBC Music Ministry
Churchwide Christmas Fellowship
Sunday, December 10 following the music program in Harris Hall
After the program, we invite you to share in a time of refreshments and fellowship with the UBC family in Harris Hall. If your last name begins with A-L, please bring a salty snack to share, and last names M-Z bring a sweet treat. The Music Ministry will provide drinks. You may drop off your snack in Harris Hall on your way to the program.
Tidings of Comfort and Joy
Sunday, December 17
3:00pm | Watson Chapel
Many times, we find ourselves heavy in spirit despite the Christmas magic that surrounds us this time of year. This service of prayer, music, scripture, and message will remind you that you are not alone, and that God longs for you to experience his hope and peace this Christmas season.
Christmas Eve Service
Candlelight, Carols and Communion
Sunday, December 24
5:00pm | Sanctuary